A selection of Mike's CDs, please email mikeberrymusic@outlook.com for prices and any questions.
Mike will be happy to dedicate any cds, please state your request when ordering.
---
Mike Berry - Sunshine Of Your Smile - Hits & Memories from the 1980s
Disc: 1
1. If I could only make you care
2. Anniversary song
3. Billy tyler
4. Near you
5. Words
6. The sunshine of your smile
7. My blue heaven
8. Special dream
9. Goodbye California
10. Heart of a clown
11. One more love story
12. I'm as old as Paul McCartney
13. What'll I do
14. Love letters
15. Whispering
16. Blue skies
17. You're a lover, a friend and a lady
18. Memories
19. Crying in the rain
20. White dove
21. Like a fool
22. Funny the things we do
23. Heartaches
24. Till we meet again
Disc: 2
1. You're already gone
2. I'm gonna get you
3. Raining in my heart
4. It's only love
5. If a tear should fall
6. In my dreams
7. Same old moon
8. Alice
9. M ch As I
8: Walk Right Back
9: Fool's Paradise
10: Queen Of The Hop
11: Before I Grow Too Old
12: I Wonder In Whose Arms
13: Cozumel
14: Summertime Blues
15: Pretend
16: I'm Feeling Sorry
17: I'm Gonna Set My Foot Down
18: Jambalaya
Keep Your Hands To Yourself!
---
Mike Berry continues to please audiences around the world and this CD, recorded live during a concert in Sweden, captures him in top form.
Joined on stage by the Outlaws, who on this tour were Brian Hodgson, Alan Jackman, Ron Beynon and guest piano players Pete Wingfield and Gavin Povey,
Mike romps through some old rock\'n\'roll favourites and a few new tunes that will delight his fans.
If you enjoyed 'Rock'n'Roll Daze' (RCCD 6002) this album is a must!
1/ I'm Ready;
2/ It's Late;
3/ It's So Easy;
4/ Well … All Right;
5/ It'll Be Me;
6/ Think It Over;
7/ Livin' Lovin' Wreck;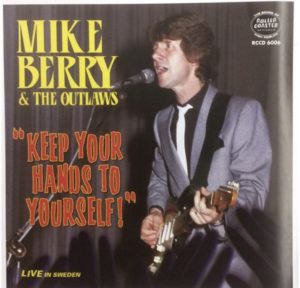 8/ Just A Little Too Much;
9/ Tribute To Buddy Holly;
10/ I'm In Love Again;
11/ Oh Boy;
12/ The Bug;
13/ A Mess Of Blues;
14/ Stood Up;
15/ Three Steps To Heaven;
16/ Not Fade Away;
17/ Stars On The Water;
18/ Break-Up;
19/ It Doesn't Matter Anymore;
20/ Breathless;
21/ Keep Your Hands To Yourself
---
Mike Berry & The Outlaws - Rock'n'Roll Daze
Anyone who has enjoyed Mike Berry live on stage with the Outlaws in their current configuration will want this CD, and long-term fans will not be disappointed.
1. Just a little too much
2. High school confidential
3. More than I can say
4. Rock around with Ollie Vee
5. Walk right back
6. It's so easy
7. Sweet little 16
8. Tribute to Buddy Holly
9. Rave on
10. Only the lonely
11. Breathless
12. Everyday
13. Stood up
14. Wake up, little Susie
15. When you ask about love

16. It'll be me
BONUS TRACKS:
17. Trick on your heart
18. Good old country boys
19. Gone too long